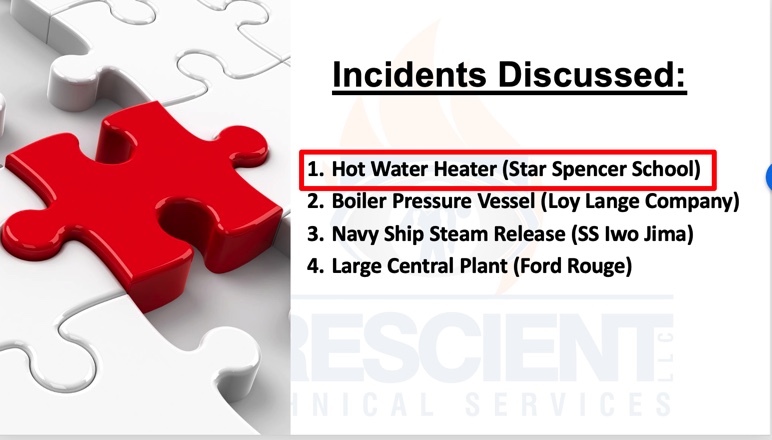 I participated in the aftermath of two of these events.
In 1999, shortly after the Ford Rouge Plant Boiler House explosion (6 deaths), Ford retained my firm to help them create a global boiler and combustion systems safety program. I spent months at the Rouge site, I saw the devastation first hand. More recently, in 2017, I served as an expert witness for Attorney Jamie Boock in St. Louis, the Plaintiffs received a $47 million settlement (4 deaths) as a result of this case. I have provided important lessons learned about each of these cases.
20 Things You Will Learn
1.    INCIDENT #1: Things don't have to be big to kill you, hot water heater explosion killed 5 kids and a teacher at school in Oklahoma.
2.    Warning signs that were there before the explosion that no one recognized.
3.    Identifying gas valve and other fired equipment device recalls and defects
4.    Considerations for the installation and inspection of safety relief valves on boilers and hot water heaters.
5.    Testing and inspection requirements for the fire side combustion controls of hot water heaters, even though they look inocent and they exist in our homes
6.    INCIDENT #2: Pressure vessels, (tanks), can diminish in their capacity, corrode, and release tremendous amounts of energy. This one in St. Louis Missouri killed 4 when it failed.
7.    Understanding the warning signs of pressure vessel and mechanical integrity failures.
8.    If you operate pressure vessels or high energy piping, you need a mechanical integrity program, places to start are provided.
9.    Create policies for inspections and taking equipment out of service if defects are identified.
10. Descriptions of personnel that must be involved making repairs of pressure vessels and the types of markings that code vessels should have.
11. INCIDENT #3: Something as simple as the wrong fasteners on a high pressure steam piping system repair killed 10 sailors on a Navy ship.
12. Steam leak risks are discussed and the danger of leaks and releases in confined spaces is communicated clearly with this incident.
13. Fastener selection and bolted pressure boundary connections are vital to safe operations.
14. High energy piping systems and pressure vessels must have bolting procedures, this lesson learned provides a way to start.
15. Training staff on recognizing the important factors for high energy piping failures and bolting procedures and minimize risks.
16. INCIDENT #4: Boiler and fired equipment fuel train repairs can be very dangerous, even when people try to do the right thing. This procedural error caused the death of 6 men and a billion dollars in damages.
17. Procedures are vitally important and need to not only exist but to be vetted through processes like HAZOP's.
18. Isolation valves need to be functional and seat leakage tested, (information about isolation and servicing lubricated plug valves).
19. Considerations are discussed for piping changes and accomodations to reduce the changes for purging errors and for complying with applicable codes for gas discharges.
20. Isolation and lockout/tagout procedures should comply with certain requirements and include training.
Example Curriculum - 54 Minutes of content, w/o quizzes
You need to pay attention to all hot water heaters!
It certainly doesn't have to be big to kill you! The tragedy in 1982 at Star Spencer School in Spencer Oklahoma proved that, (6 deaths - 5 children and one teacher). Its not just fired hot water heaters that can be a problem, the same destructive forces have occurred from electric hot water heaters where overpressure devices were not functioning properly.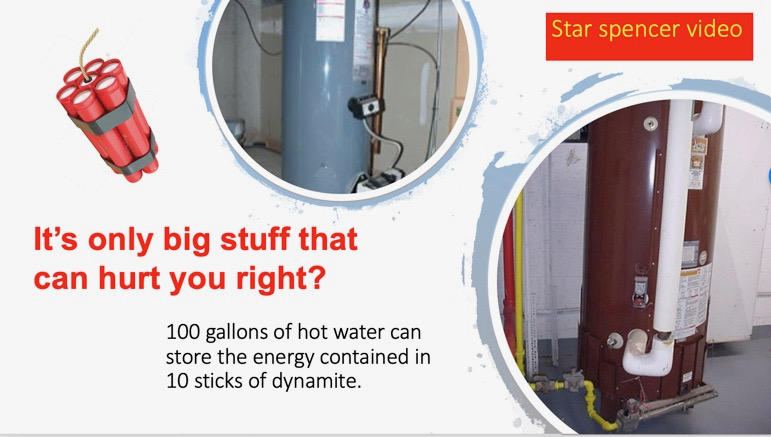 Available Individually or as packages for your staff. Corporate subscription plans are available - call 216- 213-6201 for details.